Translation available below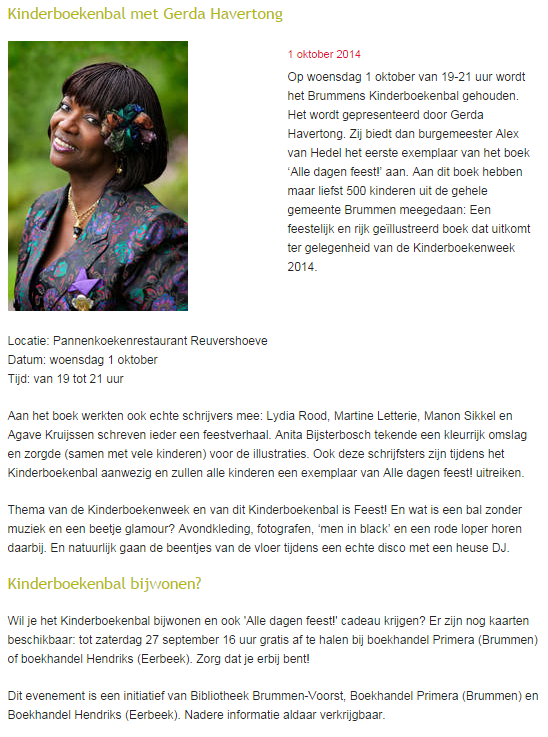 Children's Book Party with Gerda Havertong
October 1, 2014
On Wednesday, October 1st from 19-21 hours, a Children's Book Party will be held in Brummen. It's presented by Gerda Havertong. She will give Mayor Alex Hedel the first copy of the book Party Time!  As many as 500 children from schools in and around Brummen wrote stories and made drawings. A festive and richly illustrated book published on the occasion of the "Children's Book Week" 2014.
Location: Pancake restaurant Reuvershoeve
Date: Wednesday, October 1st
Time: 19 to 21 pm
Lydia Rood, Martine Letterie, Manon Sikkel and Agave Kruijssen wrote each a celebration story. Anita Bijsterbosch drew the cover and made (along with many children) illustrations. These writers are present during the Children's Book Fair and will handover a copy of the book to all children.
What is a party without music and a bit of glamor? Evening wear, photographers, 'men in black' hearing and a red carpet. And of course a lot of dancing during a real disco with a real DJ.
Would you like to attend the Children's Book Party?
There are still tickets available: they can be picked up at bookstore Primera (Brummen) or bookstore Hendriks (Eerbeek) uptill Saturday, September 27th.
This event is an initiative of Library Brummen-Voorst, Bookshop Primera (Brummen) and Bookshop Hendriks (Eerbeek). Further information is available there.